How to Get Indian All Network SIM PUK Code: A number that is specific to your SIM card is the PUK code. It serves to safeguard your SIM card information and stop unauthorized access to your account. if the PUK code is required to unlock your phone number because your mobile SIM is blocked. It indicates that your SIM has been blocked and that you are unable to call from your number. You must enable the PIN set up for your SIM card on the phone. It functions on your mobile number as a security feature.
All Indian Network USSD Codes List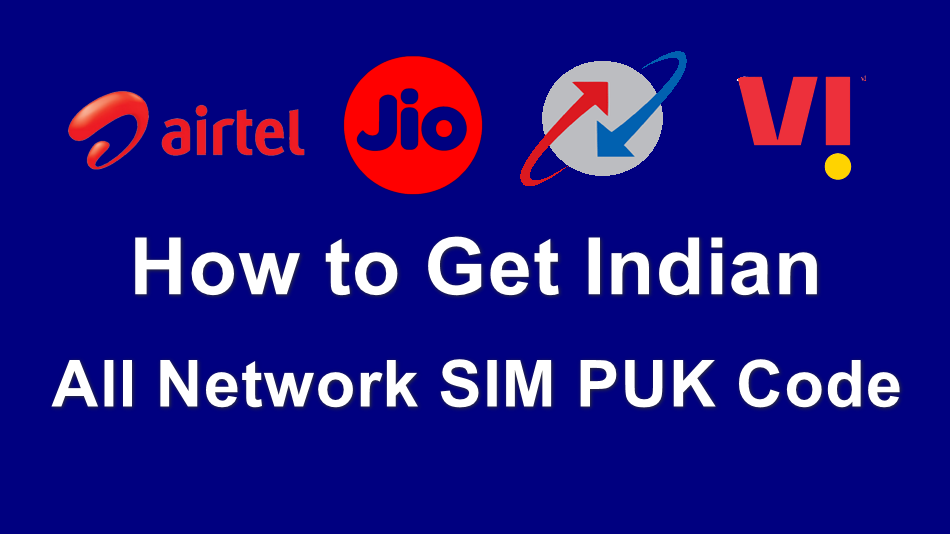 You will be prompted to enter the PIN each time you switch your handset. Here are the ways to obtain the PUK codes for all Indian network companies if you are experiencing the similar issue.
1. How to Get Jio Number PUK Code
Customers of Jio can dial the toll-free number 18008899999 and follow the instructions on the system IVR. Wait for the sixth choice till the system requests a "Unblock PUK code" to learn your Jio PUK code. Now, adhere to the directions and confirm the information to learn your Jio number PUK code. Alternatively, you can speak with Jio customer service to learn your PUK code.
2. How to Get Airtel Number PUK Code
In order to unlock a locked Airtel number, you must enter the PUK code. You can obtain your Airtel number's PUK code in one of two methods. The first and simplest option is to phone the Airtel customer service number and confirm your ownership information with a customer support representative. Once all the information has been successfully confirmed, the customer support representative will provide you with the code. Additionally, you can resolve this issue on your end. You can recover your Airtel number PUK code by following the instructions listed below if you are using the Airtel Android app and your account is logged in.
Step 1: First, download the My Airtel app and sign in.
Step 2: Locate the HelpSupport >> Others menu item.
Step 3: Choose the 'I wish to know my PUK number' option.
Step 4) You will be prompted to enter your PUK number by clicking.
3. How to Get BSNL Number PUK Code
Customers of BSNL can dial 9415024365, the helpline number, to obtain the PUK code, or dial BSNL customer service from another network number to receive any assistance.
4. How to Get Vi Number PUK Code
Customers of Vi can phone 199 or dial *199*3*6# ussd code to learn their PUK code. When you call, you will be prompted to choose from the IVR options, select the appropriate option, and then follow the system prompts. Call the Vodafone customer service line for any more help or support.